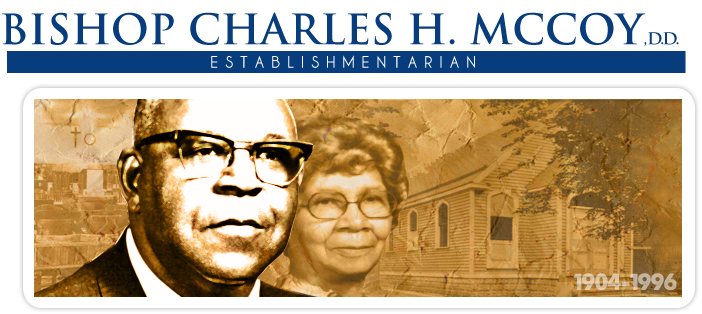 Our Founder
Charles Henry McCoy was born to the McCoy family ninety two years ago, five miles southeast of Sumter South Carolina. He was the proud son of Mr. and Mrs. Charles H. McCoy Sr. The right name was chosen for him because many great men have carried the name Charles; from Kings of France, Roman rulers and Swedish Kings.
In the year of 1917 he boarded the train form Sumter South Carolina; he arrived in the nation's capital of Washington, District of Columbia. He was excited as an eleven year old country boy to see the city. At five o'clock in the evening he boarded the train again, riding all night and arriving in Buffalo, New York. His first home was an apartment building on Clinton Street; there his new life began. He attended Public Schools #32, #31 and a school on Oak Street between Genesee and Sycamore. He secured his first job as a paper boy of which he was very proud and his second job was a shoe shine boy.
In 1923 he heard and believed the preaching of the gospel of holiness, and was saved under the late Fred Winan. He was called to ministry in 1925. He served as assistant Pastor under the late Elder B.E. Reid. In the year 1926, in the month of May, he married Ms. Errie L. Noles.
Licensed to the ministry on May 28, 1926 by the late Bishop W. G. Shipman, former Overseer and State Bishop of New York for the Church of God in Christ. Bishop Shipman was an outstanding teacher and preacher of the word of God. Minister McCoy was additionally trained by the late Elder Jesse P. Payne and took extensive classes at the Moody Bible Institute in Chicago, Illinois.
He has served the Churches of Western New York, in the following capacities: as a licensed minister, he served as Sunday School Superintendent of the State. As President of the Y.P.W.W. in 1929 in the old Temple Theatre, the present site of the Super Duper Market at William and Jefferson Streets. As the Assistant to the late Elder and Father J. P. Payne, also serving in the capacity as Local Superintendent, from June 1929 to 1939 at 13 Superior Street, The Saints Home Church of God in Christ.
He was District Superintendent of No.1 District. His Pastoral activities took him in 1932, to Pastor in Rochester N.Y. in 1934 and 1941 to Pastor in Olean, N.Y. During the month of May 1932, he was elected Executive Secretary of the Churches of God in Christ in Western New York, under the late Bishop W. G. Shipman. On May 26, 1935, he was Ordained in the Gospel Ministry of our Lord Jesus Christ. He was building-leader of the Saints Home Church of God in Christ at 13 Superior Street, 1939-1946. It was at this Pastorate that God so marvelously blessed him during the lean days of depression, to build and beautify the Saints Home Church at 13 Superior Street. He left this church in 1946, clear and free of all indebtedness.
He assumed the Pastorate of Zion Church of God in Christ at 512 Jefferson Avenue, Buffalo, New York in 1948. The Church was spiritually depressed, and there he did pray and labor with the people until God revived and added to the church.
It was in 1960 that he purchased the present site of 618-620 Jefferson Avenue. Renovated, altered it for a Sanctuary of worship. The property was paid out in July of 1970. This was a Garage Building- for this adventure, he was severely criticized. But with his keen eye of fore-seeing the future, and the blessed assurance of knowing that Jesus had said to him just as he had said to others, Lo! I am with you always.
He took a small faithful band of members and set out to work. The work speaks for itself. It is one of the most beautifulest places of worship that Western New York has to offer. This was done within the space of 10 years. His faithfulness as Executive Secretary of W.N.Y. Church Of God In Christ, and his dedication to the late Bishop W. G. Shipman, former Bishop of W. N. Y. brought about the promotion of him to his present status, to which we are here given this Testimonial tonight. He is a proven Church Builder. A dedicated and Spiritual leader for the people. One who concerns himself with the affairs of others. Most of all he has proven to be a saint of God.
He has during his present pastorage, in the year 1968 purchased 43 and 45 Matthew Street lots. On April 9, 1972 he was awarded the Doctor of Divinity from Trinity Hall Bible School and Seminary of Ohio. On May 3, 1972, a Testimonial Dinner was held in his honor. Bishop McCoy has many honors, among them, a National Dinner Plaque, on 11/7/70. Ecclesiastical Award from Jurisdictional Hospitality President and Members; a pure sterling silver trophy from the Jurisdiction Ushers Department President and Members, 1970.
(This biography was copied word for word out of the book: Life and Work of Bishop Charles H. McCoy published in 1972)
Pastor Matthew L Brown began his tenure as pastor of Pentecostal Temple C.O.G.I.C. in 1996. He has been successful in establishing the ministry as a beacon of hope to countless individuals and families served by the organization. He aggressively challenges the notion that church exists simply for the proliferation of the local assembly, but rather views the church as the change agent; pointing the way to purpose, peace and prosperity for the community it serves.
As an outgrowth of his commitment to investing in the community and the lives of its residents, he has established the Temple Community Development Corporation (TCDC). Through the TCDC, he consistently spearheads community events that serve the underserved and contribute to the development of the infrastructure of a healthy and stable community environment.
Pastor Brown, the consummate educator, has successfully established the Pentecostal Temple Bible Institute (PTBI). In the spring of 2011 PTBI will become the Antioch Bible College serving regional clergy with theological academic degree opportunities.
In March 2012 Pastor Brown was reassigned to the Greater Community Cogic in Marietta Georgia
Click here if you would like to know more about Church Of God In Christ, Inc.